Dhallywood star Pori Moni's Banani home raid on Wednesday (August 4) has been the main topic of discussion among Bangladeshi netizens. The issue also has been the primary source of news among the press media outlets of the country. This recent series of raids against female models and actors, who are allegedly involved with illegal drug and alcohol trade, have raised another age-old issue within the Bangladeshi social media feeds.
That issue is toxic moral policing against women, especially against the women working in the Bangladeshi media industry. 
The news feeds of popular social media platforms like Facebook, Instagram and TikTok are filled with hate speech and derogatory comments, trolls and memes against women who smoke or consume alcohol.
Social activists and feminists who are calling these hateful actions are being attacked as well. Some renowned social activists have taken a different approach to criticise these hateful acts. 
Renowned social activist and Dhaka University's Professor of Mass Communication and Journalism, Dr Gitiara Nasreen started the trend on Facebook. She took to her personal Facebook profile and posted a photo holding a bottle of alcohol on Friday (August 6).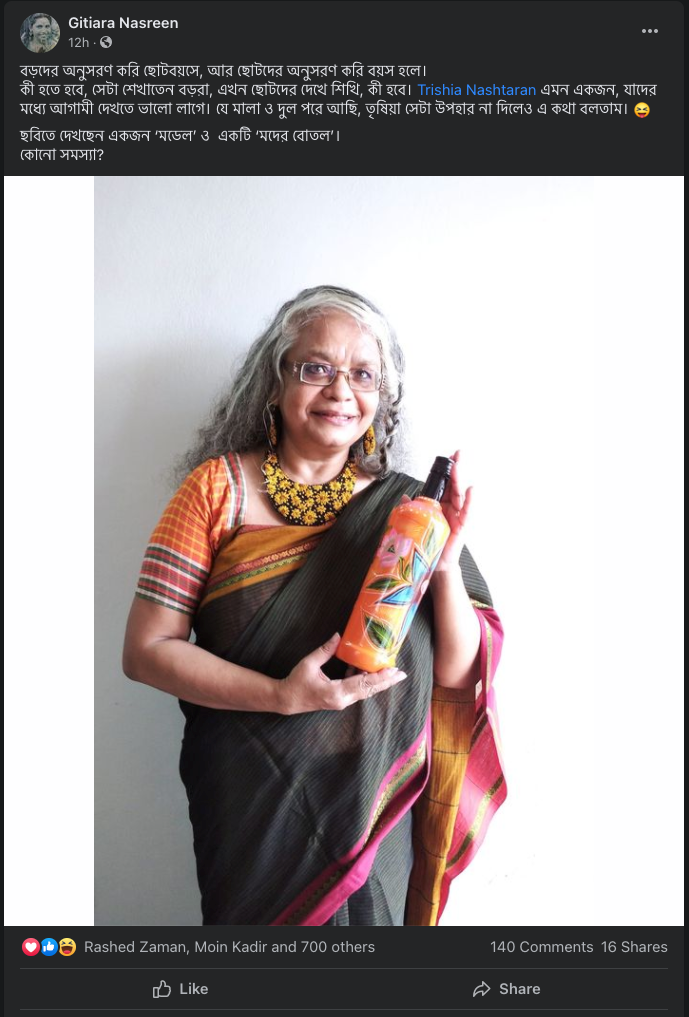 She jokingly captioned the photo: "You can see a 'model' and 'a bottle of alcohol' in the photo. Any problems?"
The witty photo took off and women started sharing their take on her meme.   
A few hours later, eminent writer, columnist and social activist Prof Rahnuma Ahmed shared her photo on her Facebook story. She was seen with two bottles of alcohol and jokingly holding an Apple Pencil (a stylus for iPad) like a cigarrette. Rahnuma captioned her photo, "RESIST MORAL POLICING."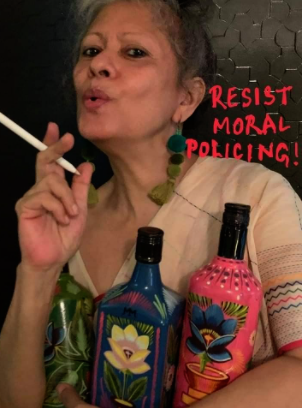 Popular Bangladeshi-born writer, physician, feminist, and social activist Taslima Nasrin Sarkar, commonly known as Taslima Nasrin took to her verified Facebook profile on the same day and wrote a status teasing the same issue.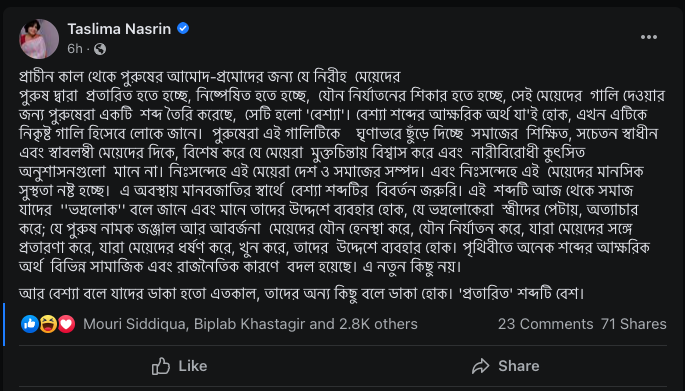 She stated that the popular meaning of the word "Beshsha" or "sex-worker" used by men to demean women should be changed.
On August 5, the 58-year-old exiled activist wrote another post stating that she does not understand what crimes have Pori Moni committed.
She even asked if "being a woman is the biggest crime?"