Internet sensation Hero Alam, whose real name is Ashraful Alom Saeed, has recently shared his new look for an upcoming YouTube drama on his verified Facebook fan page on Monday (August 2). His makeover as a woman for the Sardar Productions drama titled 'Viral Wife' has caught the attention of Bangladeshi netizens.
His Facebook post of his new look as a woman was captioned with, "New drama is coming soon, keep an eye out on 'Hero Alom Official Natok' YouTube channel if you want to see it."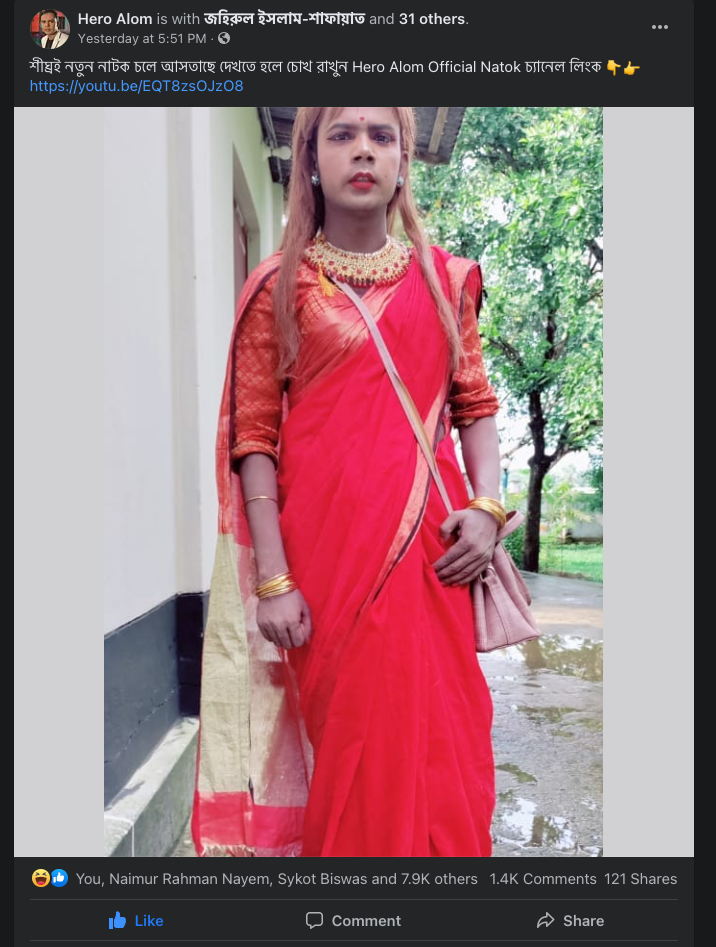 In the photo, Hero Alom can be seen in a beautiful red saree, wearing red lipstick and a ladies bag wrapped around his shoulder.
Earlier in his life, Alom sold CDs and later started a satellite TV connection business. He began making music videos as a hobby and some music videos went viral online during 2015. 
Alom became a popular target of online trolling and memes in Bangladesh since then.
He acted in one feature film titled "Shahoshi Hero Alom."
In 2018, Alom decided to contest in the 2018 Bangladeshi general election and he participated as an independent candidate in the Bogra-4 constituency.
On December 10, 2018, High Court instructed Bangladesh Election Commission to accept his candidature form as the authority denied his candidature earlier and Alom contested in the election as an independent candidate.
His candidacy drew so much media attention that, in 2018, he became the 2nd Bangladeshi, only behind Khaleda Zia, to be in the top 10 in the category of people in 2018 google search trend in Bangladesh.
Eventually, he lost in the election getting only 638 votes in his name and BNP candidate Mosharraf Hossain won the seat of that constituency (Bogra-4).
His recent Arabian themed music video gained a lot of attention on social media platforms like TikTok and Instagram.