Afghanistan filmmaker, Sahraa Karimi, who is also the first female chairperson of the Afghan Film Organisation shared her fears as the Taliban entered the capital city of Kabul on Sunday (August 15).
In a recent video shared on Twitter, Karimi was seen trying to flee Kabul, and she was saying: "Taliban have entered the city and we are running away. Everyone is afraid."
Reportedly, last week the city hosted a film festival and now Afghans are running away for their lives in the war-torn country.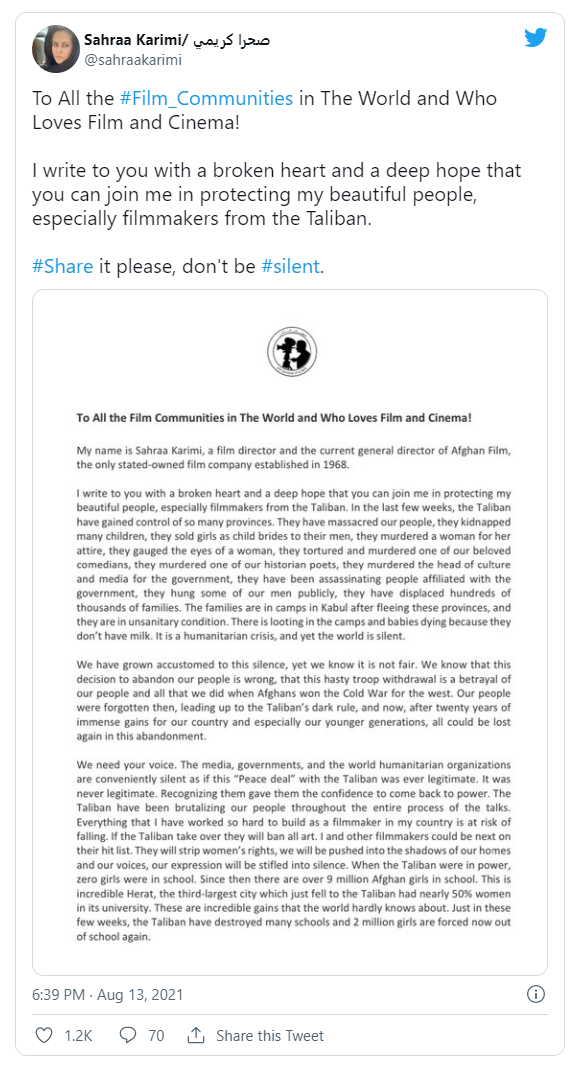 Earlier on Friday (August 13), Karimi wrote an open letter to filmmakers across the world to seek their help and show their support as the country is set to enter catastrophe.
Full version of her open letter:
For all the film communities in the world, for those who love cinema and cinema!
I am Zahra Karimi. He is a film director and the current director general of Afghan Film, the only government-owned film company founded in 1968. I am writing this with a broken heart and with the deep hope that you will join me in protecting my beautiful country from the Taliban. The Taliban have seized control of several provinces over the past few weeks.
They are massacring our people. Many children were abducted. They sold the girls into child brides. They killed a woman in the name of dress. They tortured and killed one of our favorite comedians. They killed a prehistoric poet. They kill people associated with the state. Some of our men were hanged in public. They have displaced millions of families. Those families who fled these provinces are in camps in Kabul. They live in unsanitary conditions. Babies in the camps are dying due to lack of milk.
This is a humanitarian crisis. Yet the world is silent. We grew up accustomed to this silence; Knowing that is not fair. We know this decision to leave our people is wrong. Everything that our country, especially the new generation, has achieved in 20 years will be shattered by this silence. We need your voice. The media, various governments, and human rights organizations around the world have all maintained a comfortable silence on the notion that the "peace deal" with the Taliban is justified. That would never be fair.
Accepting them will cause them to return to power. Everything I have worked so hard for as a filmmaker in my country is likely to perish. If the Taliban take over, they will ban all art. I and other filmmakers may be next on their hit list. They will erode women's rights. We will be thrown into the shadow of our homes and our voices. Our expression will be suppressed into silence.
When the Taliban were in power, the number of girls going to school was zero. Since then, there are about 90 million Afghan girls in school. Herat, the third largest city conquered by the Taliban, had 50 percent women at its university. This is our incredible achievement, unknown in many parts of the world. In these few weeks, the Taliban have destroyed several schools. 20 lakh girls were expelled from school again.
I do not understand this world. I do not understand this silence. I will stand and fight for my country. But I can't do it alone. I need the help of allies like you. Help us draw the world's attention to what is happening to us. Help us by telling the important media in your country what is happening here in Afghanistan. Be our voice outside of Afghanistan. If the Taliban take over Kabul, we may not have access to the Internet or any other means of communication.
Please support your filmmakers and artists as our voice. This is not a civil war, this is a shadow war. It is a war of attrition between the United States and the Taliban. Share this fact with your media. Write about us on your social media sites. The world should not turn away from us. We need your support and voice for Afghan women, children, artists and filmmakers. This support is the biggest help we need right now. Please help us not to let this world leave Afghanistan. Help us before the Taliban capture Kabul. We have a little time ahead of us, maybe a few days. thank you so much. I truly appreciate your pure heart.