In the historic year 1971, under the adamant leadership of our Father of the Nation Bangabandhu Sheikh Mujibur Rahman, we have paved our way through bloodshed and resilience to an independent, sovereign nation – Bangladesh. 
We have now emerged as a digital country under the leadership, superintendence and governance of his worthy daughter Prime Minister Sheikh Hasina. The pilot step into a digital nation brings with itself numerous benefits and some challenges.
To confront these challenges that come along with being a digital nation, the highly prudent and wise government of Sheikh Hasina has introduced and enacted several laws in the country. One such exemplary legislation is the Digital Security Act (DSA) 2018.
DSA was primarily introduced to eliminate fake news, misinformation, propaganda against individuals, organizations, nation, etc. inside the country.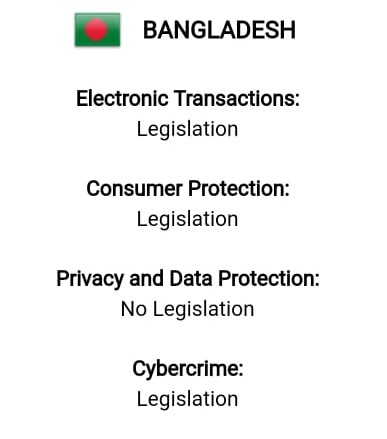 Source: UNCTAD 
The Bangladesh infograph at UNCTAD reveals that although we have legislations on Electronic Transactions, Consumer Protection and Cyber Crime, the country still does not have a 'Privacy and Data Protection' legislation. The lack of a Data protection Act hinders our progress towards becoming a Digitally Sovereign nation.  
That's why when someone spreads fake news, misinformation, propaganda in the same platform but from outside the country, the government's challenges become heftier. To tackle such challenges by 'data invaders' from foreign countries, the government needs to urgently introduce 'Data Protection and Privacy Legislation.'  
Although DSA '18 is a very rigid legislation, yet without 'data protection and privacy legislation' it remains frail with numerous loopholes which makes it easier for perpetrators to invade the digital security of the nation. Without aforementioned legislations ratified, becoming a digitally sovereign state/Digital Bangladesh is a distant dream. 
It may be cited here, that out of 194 countries in the world 128 countries has their own laws concerning 'Data Protection and Privacy legislation. In the light of this, it may be mentioned, that even though Bangladesh has entered the digital era, we have still not become digitally sovereign. The country is still subservient to the Western powers and remains 'digitally colonized.' 
The United Nations Conference of Trade and Development provides a comprehensive and interactive data chart on countries which have digital security act and countries where the law is still pending. More information: unctad.org/page/data-protection-and-privacy-legislation-worldwide
To fight our way from this hegemonic system of 'data dominance,' the country needs to rapidly act to ensure data sovereignty.  The largest and wealthiest firms in the world have based their work on data (Google, Amazon, Facebook, Alibaba, etc) and to progress on our journey to become a Developed nation, we may take lessons from these firms who now have started to use 'data as currency.'
 To fully thrive as a digital nation, we want the government to enact laws to ensure Data Sovereignty. It is high time that Bangladesh introduces a new legal framework where crucial information of the country's citizens is free from external threats. 
Data sovereignty will significantly safeguard an individual's personal details from data invaders by preserving it in 'cloud-form'. In this way misuse of information and data can be prevented. An individual's details can be preserved within their country of residence, and protected with impenetrable layers within their own country. 
The government of Bangladesh, through an array of endeavors has worked for the betterment of the nation. Due to these extraordinary initiatives, development has touched the lives of people from the rural to urban areas. 
With the stimulus of E-Governance, the current government is on the way to fully digitalize and deliver services digitally in many departments including: Health, Education, Banking, etc. 
For this colossal move, millions of data will be input in digital format in our cloud system. In order to protect this gigantic amount of data that will soon enter our country's cloud system, we need to implement an invincible data security system.  
On the flip side, if we fail to do so, the worst might happen. This apprehension is certainly not unrealistic, as threats of cyber attacks frequently lurk our country. The Bangladesh Bank Cyber Heist will serve as a constant reminder in this regard. Considered as the biggest digital robbery in the world, this attack was easily preventable, if we had a solid cyber security system. 
Rapid economic development, creation of new jobs, advanced Digital Dividend services are possible by disseminating affordable and safe internet access for everyone. In these circumstances, data sovereignty will enable citizens' protection and access of data.
We can achieve data sovereignty by introducing a strong data protection and privacy legislation. 
It may be recommended that: 
·         A solid legislation to control or monitor cross-border transfer and storage of data 
·         Critical personal data has to be notified to the government and must be stored and processed in Bangladesh 
·         Personal data can be transferred outside the country but they will need to comply with conditions of security purposes, storage, data-principal rights, according to the existing laws in Bangladesh 
·         Every data fiduciary will need to store at least one serving copy of personal data on a server or data centre located in Bangladesh
Data sovereignty aids in usage of information technology. In 2017, The Economist said that the world's most valuable asset is 'data.' Our digital assets have surpassed the value of oil and gas. Human across the world are creating the most valuable asset simply by walking around their phones.
If a random person ever discovered the layers of surveillance they are under, well, it still remains quite unthinkable, unimaginable for the mass to fathom the amount of surveillance they are under, every single day. It has now become so normal, that we do not even realize the ways in which our data rights are being breached. 
Data sovereignty can empower the society and can curate a knowledge-based economy of our digital Bangladesh. It will also help the country to dream bigger and achieve its goals.
Data sovereignty is quintessential in creating the framework of a sustainable and digital Bangladesh. The onset of creating a digitally empowered nation and knowledge-based economy is 'data sovereignty'. 
Arsad Parvez is the Publisher of The Report